WHY US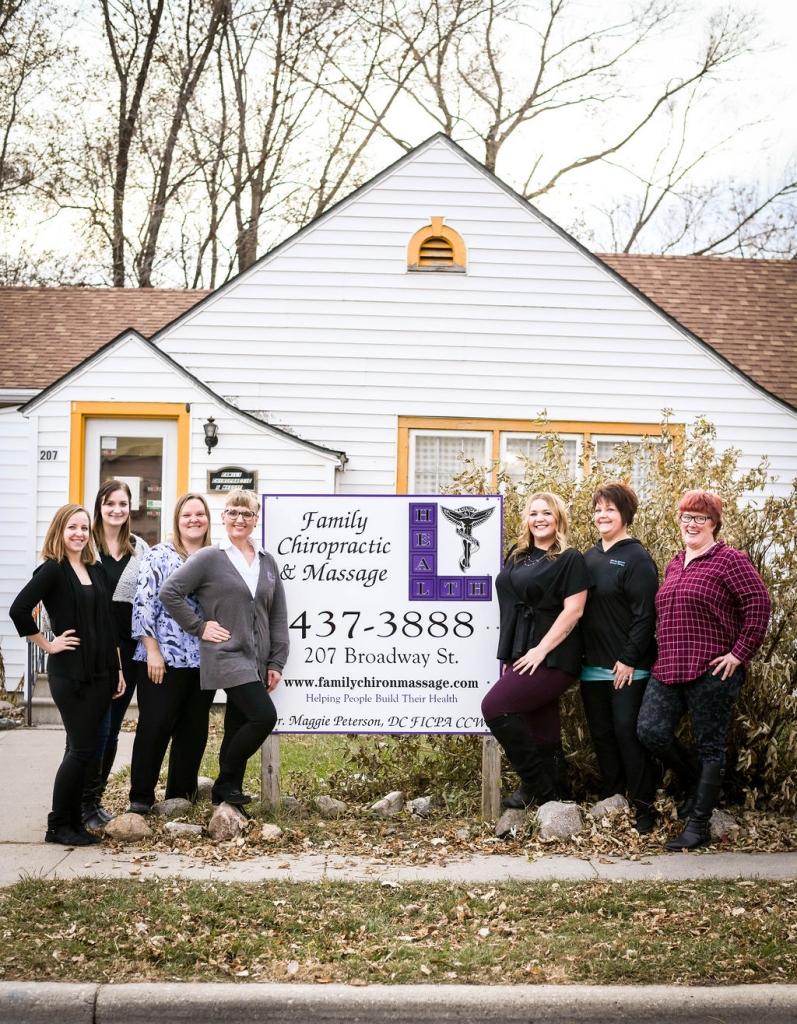 Driven by the vision of helping people build their health; we develop new ways to manage tough health issues. Striving to identify dysfunction before it becomes disease, combining the edge of innovation with the tradition of chiropractic adjustments.
We believe with all our hearts in the principles of chiropractic: the power that made the body heals the body, healing comes from above down inside out. When your body's functional physiology is working at its prime then you are able have optimal health.  Along with a commitment to improving the quality of our work, we still maintain an excellent service for a fair fee.  We help you build your health, and by referring  patients to us you are helping others.
We based our office in rural ND because we saw a need for consistent quality healthcare.  The whole purpose of our work is to help you build your health.  We are your coaches and companion on your health journey.  We are dedicated to working with all the systems of the body.  Each must be addressed to fully express health.  Our personal promise to you is to be honest and listen to you.
WHAT IS FUNCTIONAL PHYSIOLOGY
Functional physiology is the parameter of the specialized activities and tasks that the body operates in. When we move beyond this range either above or below there is dysfunction. If the dysfunction occurs long enough you have disease. We at Family Chiropractic & Massage seek to know where the body is at in the present moment and help it return to healthy physiology before it becomes diseased.
Testimonials
Orv and I have been Dr. Maggie's patients in the summer time for several years. We spend our summers in ND and she keeps us in tip top shape after our long drive from GA.

She has a gift of healing from which we greatly benefit. She is excited and enthusiastic about her calling, sharing her knowledge with us.

Dr. Maggie is gentle and insightful as she probes to find out exactly what is troubling us or causing our discomfort, not always physical; sometimes emotional as well. When she pinpoints it, she goes to work and before we know it, she's finished and we're on our way!

Wish we had Dr. Maggie down here in Georgia!
I am a traditional & conservative 52 yr old, having lived all my life in this rural area. When a couple of my friends told me about Dr. Maggie and suggested I try seeing her for some nagging back pain, I was skeptical, to say the least!! After a just a couple of appointments and treatments with Dr. Maggie, I wonder why I drug my feet for so long.

I have been receiving periodic chiropractor treatments for many years, always with the same result; I feel good right after the treatment but am back to the same old chronic nagging pains within a day. I am not exactly sure how or what Dr. Maggie does but I have not felt this good in years. I am also impressed by how non-invasive Dr. Maggie's treatments are.

Not only are the chronic nagging aches and pains gone, my overall health and wellness have improved dramatically. I have been amazed with the way that I feel and have recommended Dr. Maggie to several of my friends, family, & co-workers. Thank you to my friends who recommended Dr. Maggie to me!!
I first met Dr Maggie on September 29, 2003. I weighed 180#. I was tired all the time. I had what I call a brain fog and had trouble concentrating. My knees were sore and ached. I could only walk about one block at a time. I was drinking a glass of metamucil twice a day to get enough fiber so that I wouldn't get  bouts of diverticululitus.

Dr Maggie interviewed me, checked me over and adjusted me. She put me on a no carb & no sugar diet for one month. With her continued guidance, I learned how to eat a more healthy diet. I started feeling better immediately. I was able to stop taking metamucil, as I was getting enough fiber in my diet now. My knees quit hurting because I quit eating so many sweets & carbs. I learned that sugar aggravates arthritis in the joints.

I now ride a bicycle 8 miles out door most every day in the summer. I walk 1 1/2 miles, in 30 minues on a treadmill in the winter. I got my weight down to 156 and have been able to keep it off since.

I am eating a normal diet now, but I watch that I don't get overloaded on sweets & carbs. I have learned to recognize the symptoms if I eat too many. If I start craving sweets & salty foods too much, I go back to Dr Maggie and she gives me a treatment that relieves the cravings.

I thank God every day that I met Dr Maggie and got help with my health.
After a devastating accident, Dr Peterson has helped me learn how to get my body working again. I now live more comfortably than anyone I know who's had a similar injury. Our whole family has benefited from Dr Peterson's expertise and we all recommend her!